The Phone Guys have been an authorized Samsung Telecommunications dealer for nearly 25 years, No other telephone system compares or features a five year warranty. A Samsung Telephone System is the ideal phone system for your business in terms of flexibility, ease of use and expandability. Your business would benefit from the wide range of features that are available such as ISDN Digital Lines, VOIP, Computer Telephony Integration and many more solutions. Best of all, it is a modular phone System, you only pay for the features and options that you need.
We can design a system for any size need.
Contact us today for a free quote.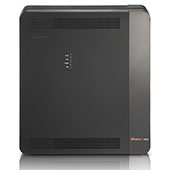 The OfficeServ 7030 is flexible enough to enable any combination of Samsung's wired and wireless handsets, IP phones and digital telephones. It also supports the latest SIP service technology.
•Supports up to 16 phones
•Reduces communication costs
•Optimizes staff productivity
•Provides advanced technology

The OfficeServ 7100 is a single, compact platform that links wireless and wire line connections, voice and data -providing connectivity and substantial cost savings from all-in-one technology.
•Supports up to 32 phones
•Reduces operational costs
•Pre-programmed and ready to go
•Grows on your own pace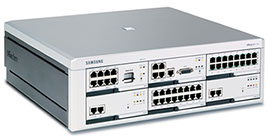 The OfficeServ 7200S is flexible and convenient. You can easily add expansion cards to build out the system line by line without having to spend for excess capacity.
•Supports up to 64 users
•Investment Protection
•Easy to manage and maintain
•Supports remote workforce

Voice mail is a centralized system of managing telephone messages for a large group of people. It mimics the functions of an answering machine using a standard telephone keyset and the messages are housed in the mainframe of the telephone system. Voice mail systems are much more sophisticated than a plain answering machine for a number of reasons:
- Answer many calls at the same time
- Store messages in a personalized mailbox associated with the user's phone extension
- Forward messages electronically from one extension to another
- Play different customized greetings or instructions for different callers
Auto Attendant will answer all your phone calls with a customized message and direct customers to the proper person or department.
Our voice mail auto attendant systems are programmed to your specifications to ensure seamless call routing and a pleasant experience for all your callers.

Keep an eye on your property 24/7 with our state of the art camera surveillance systems. Commercial, Industrial, or Residential locations can be recorded and also viewed live anytime.
Purchase and install a new security camera surveillance system, or upgrade an aging CCTV system limited by older technology: We offer free quotes and can recommend a system that is custom designed and based upon your needs, situation, and budget. We offer the latest technology from KT&C, Bosch, and Q-SEE.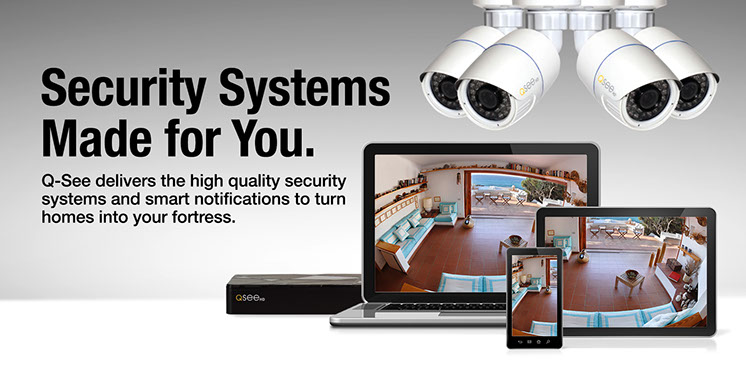 Home security and home surveillance camera systems from The Phone Guys ensure that your family and property are always safe. Purchase a single home security camera or choose expandable, multi-camera kits. Some cameras include the ability to monitor live video over the internet from any web-connected device. Indoor/outdoor, Nightvision, weather-resistant, and motion-activated models are available.

Ensure safety in the workplace while protecting your assets with business security cameras. Choose from standalone cameras to cover especially vulnerable areas of your business like the safe or the cash register, or capture everything that happens with multi-camera systems and covert devices that are easy to install and operate. Weatherproof outdoor security cameras also help you manage your business, cutting down on vandalism and property damage.


Are your customers listening to dead silence or a beep when you place them on hold?
Our customized, digital on hold system features a professional voice and licensed background music.
Use on hold time to tell callers a little more about your business and services you offer.
Our digital system attaches to your telephone system and loops endlessly.



Phone Guys specialize in Valcom loudspeaker/horn paging, intercom, and mass notification systems.
We provide intercom and paging system consultation, planning, design, components, installation, as well as train your staff how to effectively use a new paging system.
We work with both new construction and existing structures and can design a paging solution for any size need.

We use the highest-performance cable and quality components for optimal network performance.
Every cable installation is properly performed in accordance with industry standards
and are fully-tested for reliability.
- High Performance and High Speed voice and data cable
- Copper back-bone cabling
- Coaxial cabling
- Outside Plant (OSP) Cabling
- T-1 Circuit extensions
- DSL Circuit extensions
- Equipment racks and patch panels
- Local Area Networks (LANs)
- Wide Area Networks (WANs)
- Wireless Networks and Integration
- Point of Sales (POS) Systems
- PBX and VOIP Telephony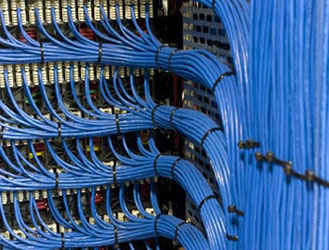 Secure and manage your facility with an access control system. Access control is the answer to adding security and control to your business. Protect your employees from unwanted visitors and manage who is entering your business at what time. There is no need to worry about duplicate keys ending up in the wrong hands.
Control access to certain rooms, offices or halls within your building. Dictate the time people are allowed in the office, stock room or computer server room. Set permanent restrictions or have timed schedules for access.
Maintain reports of which employee entered which area and when. A variety of reports are available that are both easy to generate and easy to read.
If an employee terminates his/her employment, simply delete his/her key out of the system, thereby immediately denying any access to the building. There is no need to worry about duplicate keys in the wrong hands.
Digital keypads - Card Reader Access - Key Fobs
Face Recognition - Fingerprint Scans

In 1983, "The Phone Guys" were two Bell Telephone retirees who started a telephone repair shop to run out of their basement. Those early days were spent patching up telephone systems, repairing keysets, and adding additional phone jacks in people's homes. Soon, the company had doubled in size and was servicing a good number of business telephone systems in Western and Central Pennsylvania.
In 1994, The Phone Guys were one of the first cellular phone dealers in Central Pennsylvania, becoming an authorized agent for Bell Atlantic Mobile, which became Verizon Wireless.
In the late 90's, as the Internet revolution began, the business expanded to include data cabling, computer networking, and router connections.
Today, The Phone Guys are on the leading edge of technology, offering VOIP telephone systems, High Definition video camera digital recording systems, and all the latest 4G LTE products and services from the nation's best carrier, Verizon Wireless.
The Phone Guys bring over 20 years of experience together with constant training to stay on top of all the latest technology.
Phone Guys Cellular Connection
216 North Second Street - Suite 1
Clearfield, PA. 16830
814-765-0905
1-800-330-GUYS (4897)
Fax: 814-765-3336
info@thephoneguys.com
Inquiries can be sent using this form: